Royal Saskatchewan Museum – SGI Solstice Speaker Series: The Pope Has Apologized ⁠— Now What?
Come join the Solstice Speaker Series as three thought leaders wrestle with the aftermath of Pope Francis's trip to Canada and his apology for the role of the Roman Catholic church in the operation of Residential schools. What does this apology mean to the Indigenous community? How has it impacted them personally and what are the next steps?
This September SGI Solstice Speaker Series event will be a moderated panel to discuss around the Pontiff's recent visit to Canada and apology, featuring:
Chief Cadmus Delorme of Cowessess First Nation
Lori Campbell, University of Regina Associate Vice President of Indigenous Engagement
Melissa Mbarki, Policy Analyst and Outreach Coordinator, Macdonald-Laurier Institute
---
Built around the natural calendar, the Solstice Speaker Series is a four-part series sponsored by SGI. It provides an opportunity to reflect on the emotion and changes that happens each season. Topics are current, thought provoking, and designed to create active participation towards Truth and Reconciliation.
The evening will include a drum group and dance performance. Tea and bannock will be served.
---
---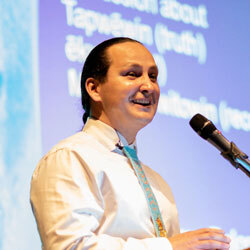 Chief Cadmus Delorme
Chief Cadmus Delorme, a Cree and Saulteaux, is the Chief of the Cowessess First Nation. Chief Delorme graduated from Cowessess Community Education Centre in 2000. He later moved to Regina to pursue a Bachelor of Business Administration and a Certificate in Hospitality, Tourism and Gaming Entertainment Management from the First Nations University of Canada (FNUniv), and a Master of Public Administration from the Johnson Shoyama Graduate School of Public Policy. Recently, he has completed an Institute of Corporate Directors designation. In 2012, Chief Delorme received the Queen Elizabeth II Diamond Jubilee Medal, recognizing his student leadership. He was also named one of CBC Saskatchewan's Future 40, which celebrates the province's new generation of leaders, builders and change-makers under the age of 40. In 2019, Chief Delorme was re-elected to a second term in office. Under his leadership, Cowessess First Nation has focused on economic self-sustainability for its nation and people and has moved forward on renewable energy, agriculture, efficiency in land use initiatives that have created both current and future business opportunities.
---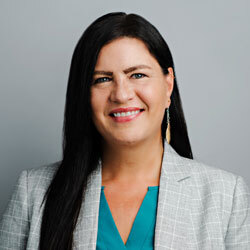 Lori Campbell
Lori is 2-Spirit and is a member of Montreal Lake First Nation, Treaty 6 territory. She is an intergenerational survivor of the Indian Residential School system and a child from the Sixties Scoop generation. Lori has made it her career advocating for social justice and working towards a more equitable society for all. With over 13 years of progressive leadership in student services, academics, research and administration, Lori is an experienced leader in education. Through the sharing of her lived experiences, traditional knowledge, and professional proficiencies she provides uncomfortable truths required for advancing processes of decolonization, Indigenization, and reconciliation within organizations and communities. Lori holds two undergraduate degrees (Indigenous Studies and Psychology), a master's degree in Adult Education and is a PhD candidate in Social Justice Education. She currently holds the position of Associate Vice-President, Indigenous Engagement at the University of Regina.
---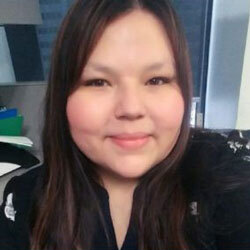 ​
Melissa Mbarki
I grew up on the Muskowekwan FN and our residential school was one of the last to close in 1997. In my presentation, I will talk about what this experience was like having a residential school in my back yard. The community impacts were devastating and we're still trying to rebuild with the little resources we have. I left the reserve when I was 17 for a higher education and later started my career in the natural resource sector. I've worked on pipeline projects that crossed 3 provinces, a large scale acquisition project that involved billions in oil & gas assets and a land transfer for a Treaty Land Entitlement settlement. The most rewarding part of my career was working with environmental groups and land reclamation. This allowed me to bring the traditional knowledge that I learned from my mushum (grandpa) and combine it current day practices. The work I currently do with the Macdonald-Laurier Institute combines the challenges I faced as a child with current day policy solutions. To me reconcilation is the work and inclusion of Indigenous voices. We cannot move forward if we don't address poverty. The truth is I would be another statistic if I didn't leave the reserve.
---